Dive Sites

Your Host Brendal Stevens, with over 25 years experience
THE ORIGINAL TARPON DIVE
Founded by Brendal. Dive with Tarpon at 50' and hand feed Brendal's pet "Grouper Junkanoo" all along a wall of coral.

CORAL CAVERNS
Explore caverns at 50' and feed "Caypso Grouper" amid schools of silversides and breathtaking and abundant tropical fish.
CORAL CONDOS
Formation of coral heads and plate coral at 60' with an abundance of micro life.

WRECK OF THE SAN JACINTO
Dive the 1st U.S. steamship made. The ship was built in 1847, and sank in 1865. Feed one large green moray eel, all at 40'.

THE CATACOMBS
Explore sun-filtered catacombs with the fish and turtles at 40' - a photographer's dream.

HORSE SHOE REEF
Sparkling sand channels at 40' that lead to coral heads of every size.

ELKHORN CORAL REEF
Hand Feed String Rays! Lounge on the beach and FRESH Grilled Seafood or Lobster (when in Season) picnic lunch on a beautiful island beach.
9:30am - 4:30pm

VALLEY OF THE SPONGES
Dive to 90' explore colorful Tube and Barrel sponges.

GROUPER ALLEY
Dive with schools of Large Grouper. All at 90'.

THE LEDGE
Large Grouper swimming amongst soft corals and sponges that dot the terrain at 100'.

HOLE IN THE WALL
A huge coral head that divers can swim through and sun-filtered caverns, all at 50'.
THE CRATERS
Dive to coral head formations at 60' with caverns filled with sunlight!
CORAL CANYONS
Dive to an underwater canyon with crevasse terrain and fish of every size and description, all at 55'.

SEA GYPSY REEF
Soft and hard coral of every description at 40' with interlinking sand channels filled with tropical fish.

THE CORAL GARDENS
A garden of fan corals, gorgonian coral and sponges all at 80'.

THE WRECK VIOLET MITCHELL
Dive to 45' and explore a wreck that sank in the 1980s that is alive with schools of fish.
THE PILLARS
Spectacular pillar coral from 35' to the surface. Tropicals of various types dot the terrain!
Click here for Dive Packages
Professional
Associations: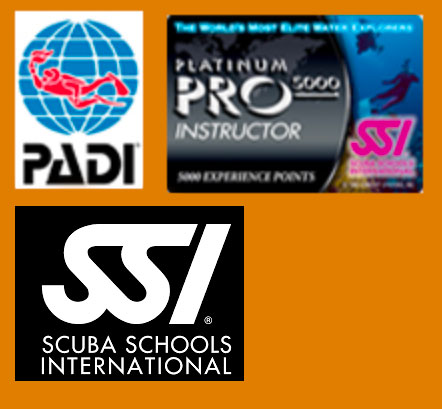 Free eLearning
Online Training:
FREE SSI online training >
Our Fleet: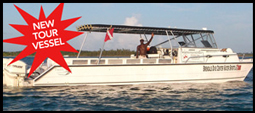 NEW 36 ft. custom tour vessel
34 ft. custom dive vessel
29 ft. vessel great for small groups
29 ft. sailing vessel
Kayaks & Standup Paddle Boards
for Tours & Rentals
PRIVATE CHARTERS AVAILABLE
GROUP SPECIALS AVAILABLE
Video Gallery
Photo Gallery
SEE OUR PHOTO GALLERY

Click here to see tons of amazing under water and above water island photos!
Special Direct Packages >